What does the future hold for you?
Let our gifted Psychics look into your life and future.
Our gifted Mediums will bring messages from those who have crossed over.
Have you been wondering about your life, your future or even your loved-ones who have crossed over? Come visit us for our Halloween Psychic Fair! Our psychics will be happy to answer and focus on any questions which you may need to discuss regarding all areas of your life. Each reading is strictly confidential Our best psychics will be giving 20-minute readings for only $25 (with coupon below.) without coupon the cost is $29.
Types of Readings at our Fairs:
Psychometry

Clairvoyance

Aura Readings

Photo Readings

Spirit Communication

Guardian Angels

Spirit Guides

Your Future

Past-life readings
Let our expert psychics look into your future. Love, marriage, children, money, success, or a new job might await you. Our psychics have had years of training and are professionally certified. These gifted psychics are also mediums and will look into the Spirit World for you. Who are your spirit guides? How are they helping you? Are there any messages from your loved-ones on the other side for you? What color is your aura? What does your aura tell us about your health and happiness? Come find out with the rest of this year holds in store for you. No appointment is necessary, just come into HSI with questions and an open mind.
Use the printable coupon to get $4.00 off your first reading at our
Psychic Fair!
HSI also accepts "virtual" coupons. To save paper, you are welcome to show us this coupon on your smart phone or device.
This is a fund-raiser for HSI. All mediums here are certified. They may hold one or both of the following titles:
Certified Psychic-Medium
and/ or
Certified Intuitive Consultant
Please note that as of February 28, HSI's PERMANENT phone number has been changed to:
518-477-0649
Upcoming Psychic Fairs:
Halloween WEEKEND Psychic Fair
Friday, October 24 at 6-10 PM
Saturday, October 25 at 12-6 PM
Sunday, October 26 at 12-5 PM
New Year WEEKEND Psychic Fair 2015
Friday, January 16 at 6-10 PM
Saturday, January 17 at 12-6 PM
Sunday, January 18at 12-5 PM
For Intuitive Development Courses in Albany, NY please click below:
<![if !vml]><![endif]><![if !vml]>
<![endif]>
Please scroll down for general activities in Albany.
_______________________________________________________________________________
OPEN MESSAGE CIRCLES


Cost: $15 per person. Cash only is accepted for all message and healing circles. ATMs are close by.
Saturday and Sunday at 7:30 PM --Once - twice per month
Doors will be locked at 7:35 PM on Saturday & Sundays evenings. Please be on time as we do not like to shut participants out.
Schedule
2014
Saturday 7:30 PM & Sunday 7:30 PM--only $15 per person

Date
Saturday at 7:30 PM
Date
Sunday at 7:30 PM
Conductors
Conductors
May 3
Stephen Robinson
May 4
Julie MacDonald
May 17
Julie MacDonald
May 18
George Koury
May 31
Stephen Robinson
June 1
TBA
June 14
Stephen Robinson
June 15
Julie MacDonald
July 26
TBA
July 27
Stephen Robinson
Aug 23
Stephen Robinson
Aug 24
George Koury
Sept 27
Julie MacDonald
Sept 28
Julie MacDonald
Oct 11
TBA
Oct 12
Stephen Robinson
Oct 25
Julie MacDonald
Oct 26
Stephen Robinson
Nov 22
TBA
Nov 23
TBA
Dec 20
George Koury
Dec 21
Stephen Robinson & Julie MacDonald
Healing and Message Circles on the same evening
Why not make an evening of it on Saturdays?
Saturday Healing Circle 6 - 7 PM $10 per person
Saturday Message Circle: 7:30 - 8:45 PM $15 per person
Why not make Saturday evenings just for you? Come to our Healing Circle (see below for details) and then stay for our Message Circle. If you stay for both you only pay $25. Getting a healing from one of our healers really helps to relax you and prepare your energies for our Message Circles. Note: TBA means to be announced.
Please check this page for updates. On rare occasions, Conductors may need to be changed on the above schedule, due to personal reasons or emergencies. Click on the link below for more information on our Message Circles <![if !vml]><![endif]>
<![if !vml]>
<![endif]>
_____________________________________________________________<![if !vml]><![endif]>_______________________________
Energy Healing Circles
On Select Saturdays once - twice per month at 6 to7 PM

$10 per person
HSI has reformatted our Energy Healing Circles to include both Reiki and Therapeutic Touch energies. In doing so, we have found these circles to be much more powerful, creating not only a peaceful, healing environment but one which facilitates fast, concrete changes in the lives of those who attend and receive healing form our certified practitioners. At these Healing Circles, we will channel powerful healing energy into your energy field (aura), your physical body and into your life. Our Healing Practitioners will be giving individual healing sessions using either Therapeutic Touch or Reiki techniques. Patrons now receive 1 to 2 healing sessions to deeply empower their healing requests. We also welcome requests to send distance healing to your friends and loved ones not in attendance. Just let us know and we'll put them in our Healing Book.

Schedule 2014
Saturdays (as listed below) 6 - 7 PM--only $10 per person

Date
Facilitator
Facilitator
May 3
Marianne Williams
May 17
Jessica Betts
May 31
TBA
June 14
Marianne Williams
July 26
TBA
Aug 23
Jessica Betts
Sept 27
Marianne Williams
Oct 11
TBA
Nov 22
Jessica Betts
Dec 20
Marianne Williams
Please visit us and check back in for updates to this schedule.

No appointments necessary. Please arrive by 6 PM with an openness to receive gentle, yet powerful healing energy. Please do not wear cologne or perfume

_______________________________________________________________________________
Church Services for 2014
Spiritualist Church services with
Rev. Stephen C. Robinson and Rev. Julie MacDonald
Once per month on Sundays at 6 PM -- held at:
Day's Inn Conference Center
1606 Central Avenue, Colonie
on the following schedule:
HSI is proud to announce that we will continue our Spiritualist Church Services in 2014. This is an exciting time in the history of HSI as we begin to renew and refresh our whole institute. Come to our Church Services and find out what Spiritualism is all about.
Everyone is welcome, whether you are a practicing member of another religion or you don't attend other religious services. Some people practice their spirituality privately. However, it is always nice to know that you have a spiritual home at HSI. Come to our services, conducted by two of the Capital District's most dynamic ministers.
Each service includes an inspiring talk (see below for themes), a healing prayer/meditation, a free-will offering and messages from those who have crossed over.
Note: We are looking for musicians and soloists to perform. At this time we are asking that if you can perform, that you donate your talents to HSI, until we can build a larger Spiritualist Community to support the payment of musicians and performers.
Schedule of Church Services for 2014

Sundays at 6 - 7 PM --once per month

Date
Ministers
Theme or Topic
Feb 23
Rev. Julie MacDonald &
Rev. Stephen Robinson
Rev. Julie presents the lecture on "Love"
March 23
Rev. Julie MacDonald &
Rev. Stephen Robinson
Rev. Stephen presents the lecture on "End of Winter"
May 18
Rev. Julie MacDonald &
Rev. Stephen Robinson
Spring Service
June 15
Rev. Julie MacDonald &
Rev. Stephen Robinson
"Fathers' Da

y" Lecture presented by Rev. Julie

--------
No services in July & August
Sept 28
Rev. Julie MacDonald
"Fall Equinox" Lecture presented by Rev. Julie
Oct 12
Rev. Julie MacDonald &
Rev. Stephen Robinson
"Halloween & Spiritual Tra

d

itions" lecture presented by
Rev. Steve
Nov 23
Rev. Julie MacDonald &
Rev. Stephen Robinson
"Thanksgiving" lecture presented by Rev. Julie
Dec 21
Rev. Julie MacDonald &
Rev. Stephen Robinson
"Christmas Candlelight and Winter Solstice Service" both ministers present the lecture
Rev. Julie MacDonald is an ordained Spiritualist Minister. She has given lectures, messages and conducted Spiritualist Church Services for over 10 years. Julie has completed just about all of HSI's study programs, including our Seminary Program, our Intuitive Consultant Program. She has taught Intuitive Development for HSI. Many of her students have gone on to graduate and even become professionals. Julie is filled with loving and sweet energy. She has excellent communication skills and plans to work hard to develop a "church community" at HSI. Julie is a power Psychic-Medium and Spiritual Healer. Julie is making a great contribution to our staff.
Rev. Stephen C. Robinson is the Founder and Executive Director of HSI. He was the Pastor of the Capital District Spiritualist Church for nearly 20 years. During his tenure he conducted church services, practiced his mediumship and psychic abilities and worked with healing. He is an ordained minister of the National Spiritualist Association of Churches.
Giving consistently returns consistently-- By making a donation to HSI you are giving to a good cause and may attract hundreds and thousands of times more than you give
HSI is a tax-exempt organization, like any other school, church or non-profit group. It is classed as a 501 (c) (3) corporation by the US Department of The Treasury. Therefore your contributions are tax-deductible.
Choose one of three plans to help us meet our operating expenses:
1. $84 – per month plan. This adds up to about $1,000 per year. What is 1,000 times that?
2. ??? –per month plan. Pledge whatever you can afford to give and watch your finances grow!
3. ??? –Make a one-time donation of any amount.
Make your check to HSI. Then watch your finances grow as you practice the 10 principles of the Law of Attraction. To attract money to you, write this affirmation on the "for" line on your check: $ given = 1,000 X to my account!
A Fresh Start for HSI -- Going Portable
Now is an exciting time in the history and evolution of HSI. First, HSI has moved out of the small office suite on Central Avenue that limited us. The Board voted to "go portable," as a center, which we feel will bring us into a 21st Century business model. This model has been successfully used for nearly 15 years in NYC. Our NYC Psychic Development Program is now being presented in Albany. This program goes far beyond the evening course program that we had taught in Albany. Instead, as in NYC, we will be holding our courses and other events on select weekends throughout the calendar year. For now we will be holding these events at:
Day's Inn Conference Center, 1606 Central Avenue, Colonie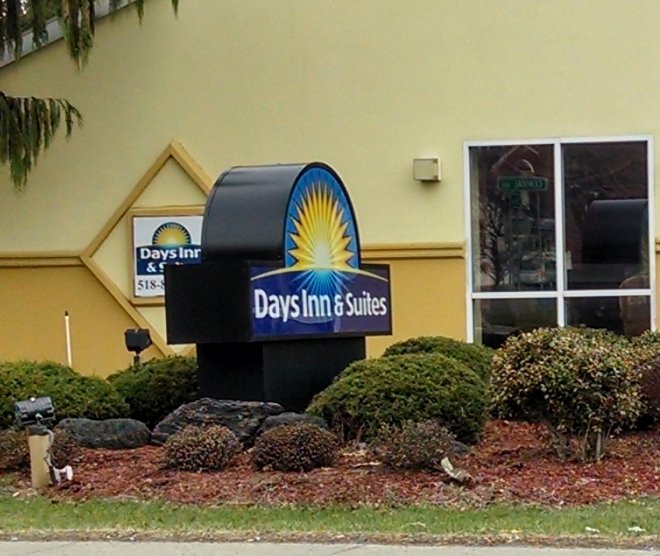 This location is just 1/2 mile west of our previous location and on the same side of the street. The Board is also looking at a variety of other locations in the Capital District--all hotel conference rooms. We may be coming to a neighborhood near you soon. However, for the calendar year of 2014 we plan to hold our events exclusively at the Day's Inn at the above address. The conference rooms are located behind the reception center, with a full parking lot and free all-day parking. Here is a view of the outside of the conference room center.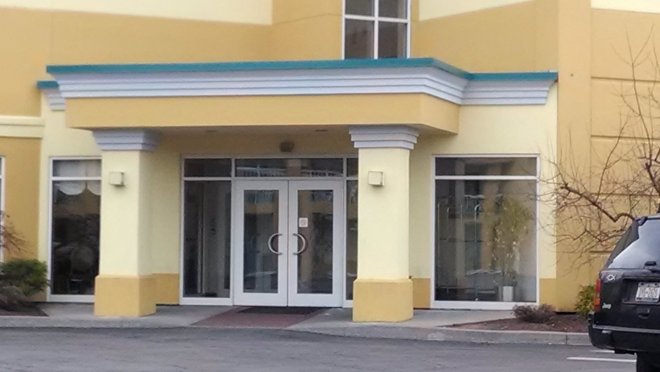 We are all very proud of our decision to go portable and know it will be a great success as we continue to provide the Capital District holistic community with quality classes, services and other events. This new location is ideal for our needs.
Upon entering the conference center, you will notice a charming café, a fireplace, and then the conference rooms themselves. Usually the room we will be in is called the "Saratoga Room." Public restrooms are just outside the conference room. We are sure you will enjoy attending our activities at this location.
Please do not contact the Day's Inn with questions regarding HSI. Instead please contact HSI directly at the numbers, address at the top of this page.
Copyright 2012 Holistic Studies Institute